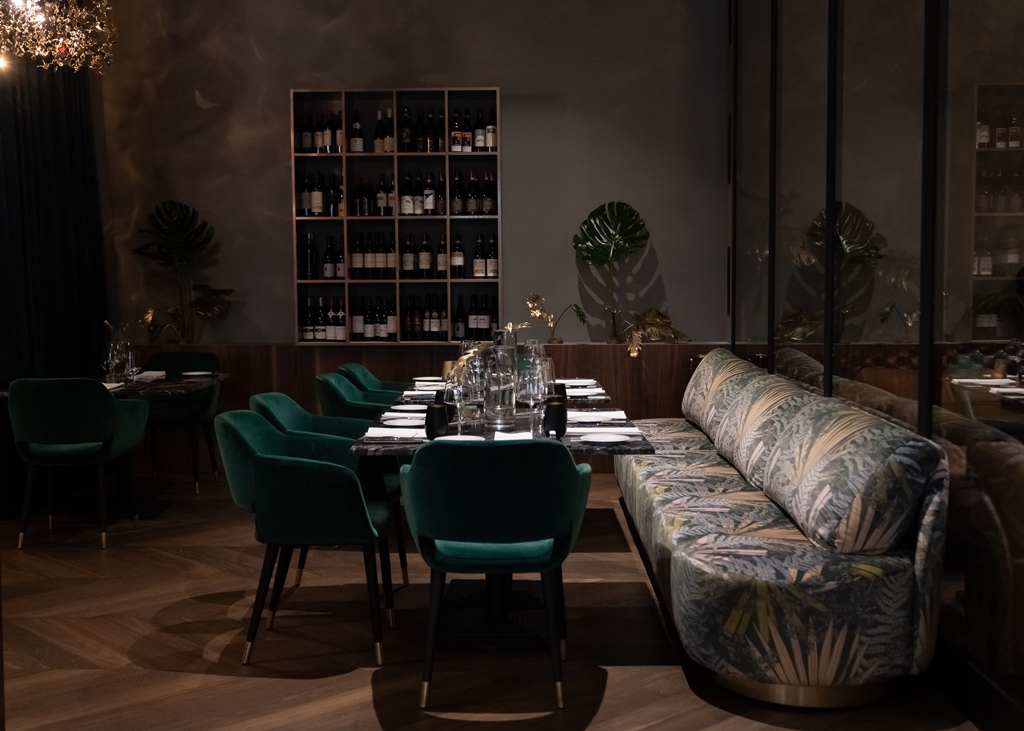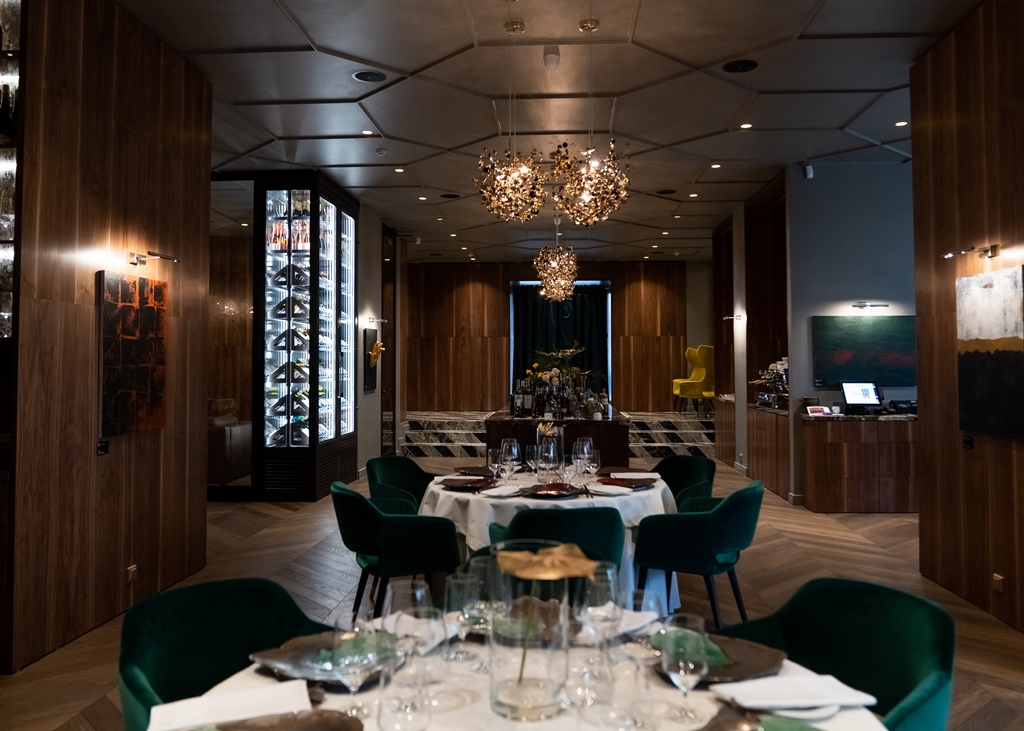 How to create a restaurant from chemical elements
 Let's start with where it all began, how did the idea of the Dolce restaurant appear? Vita?
In fact, the story did not begin with a gastronomic restaurant, we were building a club restaurant. There was a reconstruction, the formation of an idea, a project, the order of furniture and everything else. And only after I went to study in Lithuania related to the gastronomic direction, with the kitchen, under the guidance of the chef of an elite restaurant, my idea of the institution completely changed. We turned the concept towards not a club restaurant, but a gastronomic one.
After the opening, for two months it was impossible to get to us at all. At that time there were only three restaurants in the city and we had something to surprise. In addition to the interior, and at that time it was very advanced, fashionable, stylish, beautiful. It is also gastronomic. We were already making a kind of revolution then, one of the first to serve dishes with a side dish that could not be changed. I want to talk about this separately, because now, it already seems to be the norm, but at one time it was a revolution. The task was to change the principles and traditions, what the visitors were used to, to bring something new to the restaurant business. It was difficult, but we were able to form a new taste, give new sensations. Previously, no one ate salty and sweet, now everyone eats parmesan with honey and believes that they were born with it. We were the innovators of the time, both for the guests and for ourselves.
Of course, we always work for guests, we carefully look and study their preferences and desires. The menu featured a lot of Mediterranean, European, Italian, French, and Greek influences. A combination of the best traditions from around the world and our author's vision and execution. Then there was a desire to make a gastronomic performance of Russian cuisine. Habitual tastes of Russian cuisine with an unusual presentation, cooking methods, and the play of ingredients.
Where do the ideas come from, where do these innovative ideas come from generally, ideas for development, for making any tastes, changes in the menu? They don't just appear in the head, or dreamed where from?
I am fond of gastronomy, I follow trends. I often visit exhibitions, for example, the famous Bocuse d'Or exhibition in Lyon, this annual world event, invented and founded by the famous chef Paul Bocuse. We get to know the chefs, share experiences, bring new ideas.
There is a lot of literature, books and the most important thing, probably, is visiting restaurants around the world. Places where you can observe trends with your own eyes. When you try it yourself, communicate with the chefs, you see it in reality, you delve into the technology. You study new equipment at exhibitions that allows you to cook correctly - this is experience and a source for development. We continue to develop constantly, study, read, visit and introduce new things. We were the first to bring a homogenizer, we prepare the product in a suite, which allows us to preserve its natural taste and nutrients.
Anyway, when you live with something, you start to see inspiration in everything around you, and this is wonderful.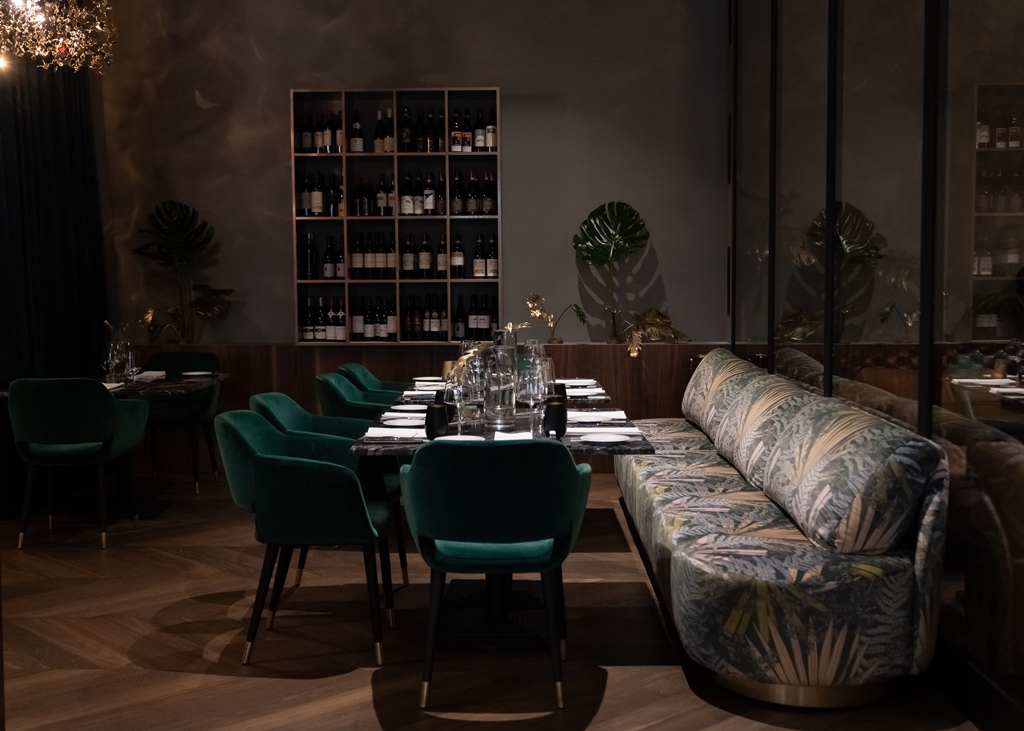 Trends, where is gastronomy looking today?
Today the cuisine has become more natural, simple in my opinion. People have already gorged themselves on various frills, complex side dishes and sauces and switched to a mono product. To ensure that good quality is at the top of the taste. Fresh product, competent cooking technique and so that the natural qualities of the product are preserved. Now all tendencies go to: natural, a minimum of decorations, a maximum of a natural grown flower, mini greens, this is very fashionable and useful. Our menu is exactly that, a lot of fresh. For example: a salad made from all green. Fresh herbs, separately added cheese, nothing mixed and seasoned with oil and truffle, there is nothing superfluous.
Of course, it cannot do without new technologies and solutions. The texture that is used is important. Not entirely new for us, but interesting in cooking technology. I keep saying that cooks are all the same chemists, despite the fact that I am also a biologist by education. Maybe that's why there is a desire to constantly experiment.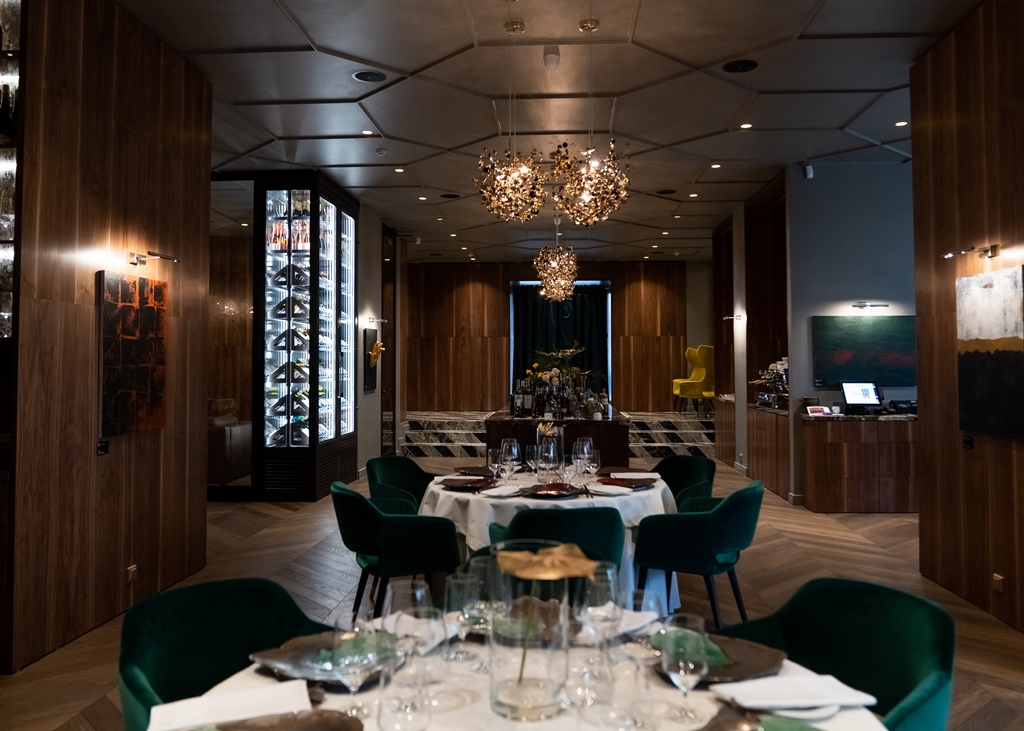 We return to the reconstruction. What served as a catalyst? Why, if everything is so good, beautiful?
This decision was formed and thought out. We did not have a decline in attendance, we closed at the peak of our popularity, and considered that this was the right time for a change.
The first and most important catalyst, this is not an interior restructuring, it is a change in space, first of all, for the convenience of work. Over the years of the restaurant's operation, the service technologies have completely changed and it just became uncomfortable for us to work. In order to provide the guest with a more correct service, it was necessary to change business processes, which is impossible to do in the old premises.
Second catalyst - emotional, internal feeling of the need for change. The decision was difficult enough. If someone, once in his life, did something, nurtured, created a project, he understands that it is very difficult to say goodbye to him. Like a child who has already grown up and needs to be released. A feeling of endless anxiety, responsibility for the decision made, is it right, for the people who work for you, responsibility for a lot of things: will this project work, how good it will be, will people accept it. But my intuition told me: we must move and change, only forward!
Third catalyst - perspectives of space. Having looked at the premises technically, we saw several more possibilities: the opening of height and light, the opportunity to give more freedom.
Fourth catalyst formed during the initial stage of work with the premises. We opened up the space, and it was the first breath that showed the correctness of the decision. The second sigh of relief when the windows were opened. And then, months of fruitful work, haste, nerves, thinking over every detail. But when people came to the opening, and we saw their reaction ... Here you understand that it was not in vain that you worked, it was not in vain that everything was done.
I always treat my work very scrupulously, there is such a phrase: good improvisation, these are months of planned and prepared work. Nothing will look and work well if you don't cook it thoroughly, measure the diameter of the plate with a ruler, and then the table on which it falls. Whether it will be convenient for guests to eat, the height of the table, chair, even the size of the fork and the convenience of the glass, this is also very important, therefore, the dishes are unique, handmade, all were tested for convenience.
If you put Dolce Vita in five words and describe her, what is it today?
Complex issue. Probably like this: luxurious, gastronomic, cozy, atmospheric, hospitable. Very often our guests say: we are at home. In each of our institutions they say so. Probably because it's comfortable. The atmosphere is enveloping, colors, natural materials, space, light and forms are chosen correctly. Each verified detail works for the result, for creating an atmosphere.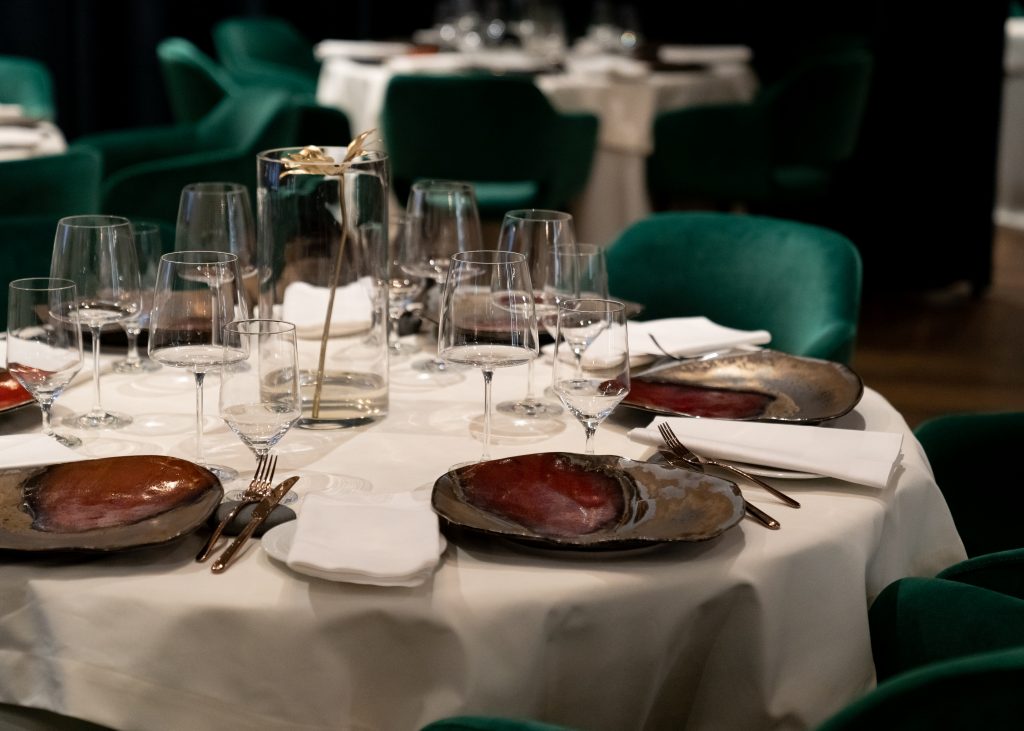 Command. Is the team all the same?
Sure. The team especially wanted to thank. We worked with the same designers, furniture and fabric manufacturers. People with whom we have worked for years and who can support our quality. As for the team of the restaurant itself, this is not even a team, but a real family. We went to the project with the same people, and I want to express my gratitude to them, because they walk with me through life together, I am pleased that people appreciate it. We have the same attitude towards values, the same attitude towards work and, I think, even towards life. This is also very important, without which it is very difficult to explain the work processes and the philosophy of the institution. I try to talk to everyone and convey our idea. Many with 20 years of experience in our field and not a single person disappointed me, everyone understood and accepted the concept of change. It is important. And guests are pleased with our consistency in a high level of service. Guests love to be recognized, know what they love, their tastes, where they are more comfortable, the temperature of the water or wine.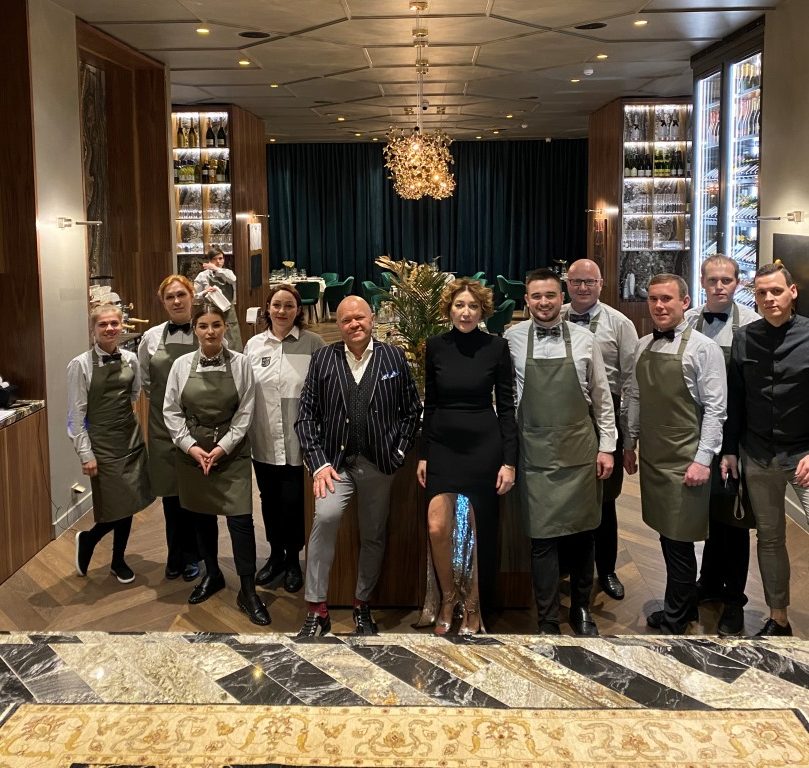 A guest.
Is the guest still the same? Time changes, the generation grows, the environment changes. Is it the same with the restaurant?
A lot has changed. The main, regular guests have survived, which we are very happy about, but, nevertheless, there are changes. When we opened 17 years ago, we went to restaurants not so much for food, but more for prestige or high-profile events. Things are different today. The richness of life has changed dramatically, the number of restaurants and food courts in the city has increased, and habits have changed. Going to a restaurant has become an everyday activity. Trends, lifestyle have changed and the visitor has changed. Plus, young people were added to our guests, which is also nice, probably also because we have changed the space. Still, the old solid classics put a little pressure on the new generation.
Besides the fact that the guest wants to change the place and the restaurant has become a good form in everyone's life, should the restaurant surprise?
Surprise the client himself? I'll argue here. There should be harmony and comfort and, of course, emotion. I want to give an emotion and it can be different, it may not be a surprise, delicious is also an emotion.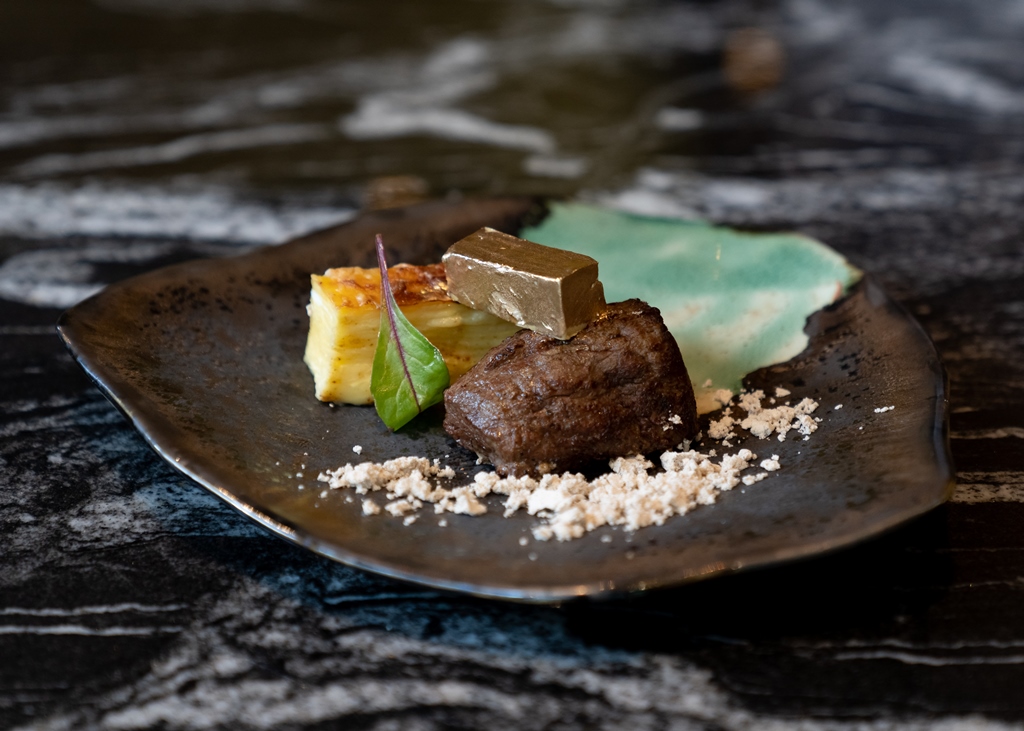 Well, they opened and gave a new emotion, everything is beautiful, luxurious, what's next? Will the emotion continue?
Certainly. For example, the Sphere dessert, which is made in front of the guests, we involve them in the game, and in fact, all this, from the space to the setting of the table, is a game, a gastronomic action.
We have plans for the next few months. This is a chef table - a table in a separate atmospheric place, where everyone sees how the cooks work, how the product is prepared and all the subtleties of the process. This is a completely different menu. Unique products will be involved, certain technologies will be applied and here, of course, we will try to emotionally ignite people. There is a project already in operation, with virtual reality, it has been tested using a mobile application and soon we will present it, most likely, we will do it at the first chef-table.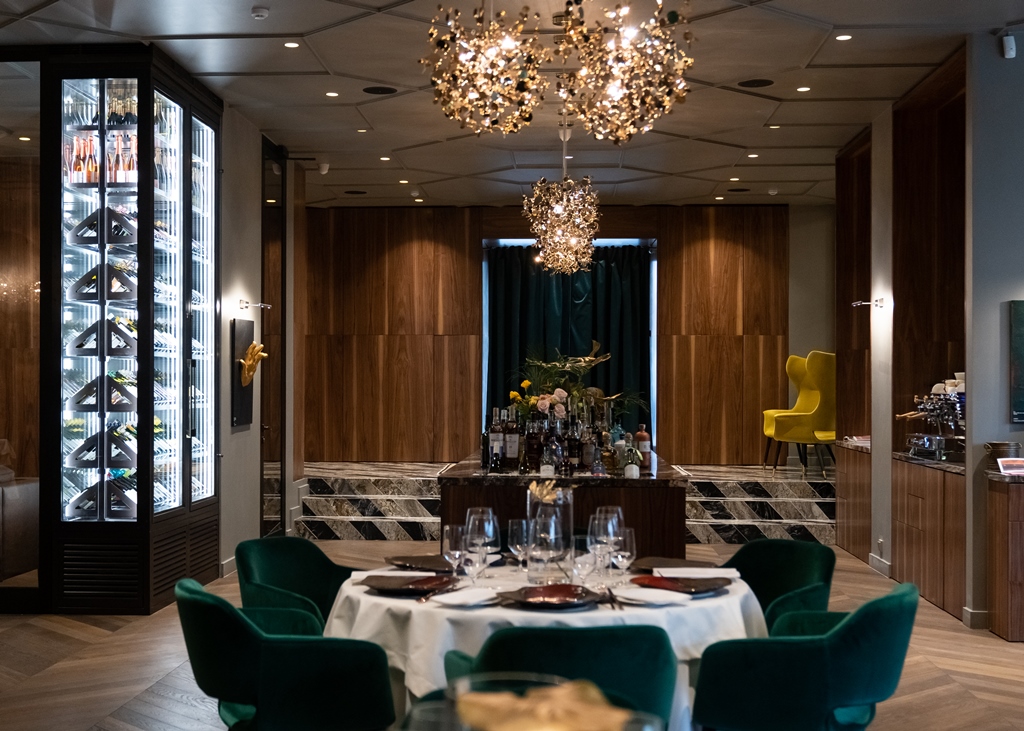 Another question: A restaurant of this level and Kaliningrad, how high is gastronomy, a high segment, does Kaliningrad converge?
It seems to me that people are already ready for this, they travel a lot, try a lot, and the restaurants that have opened raise the level of gastronomic education. They get used to what they eat in restaurants and of course they want to try a different segment, a different product. And such a segment should definitely exist. There are World stars, and we look up to them. Michelin has entered Russia, which we are proud of and are preparing for his presence and plan to bring even more style and service to our establishment. There is something to strive for, something to correspond to:
* One Michelin star means that the restaurant has virtually no competitors in terms of quality in its category.
** Two stars are awarded to restaurants with excellent cuisine. This means that the place is worth a visit.
*** with three stars, the establishment is worth crossing the ocean for this cuisine.
Undoubtedly, Kaliningrad is worthy of high-level establishments.
How to create a restaurant from chemical elements.
First-hand story, Ageeva Marina.